Summer 1972, I have my driving license. It was a boring summer and my mom wanted my sister Annie and I to meet other Costa Rican kids. A local festival had selected to honor Costa Rica for their annual Pan American Festival. The consul general a family friend had decided to have all the teens perform traditional dances in the parade. Though I knew nothing about dancing the group was fun and consisted of several pretty girls and some college kids that were partyers. Over the next two years we got pretty good and performed at Disneyland, Six Flags, and other fun places. Oh yeah I met my first girlfriend Rose Stanley.
Soon after we enrolled at USC, Rose, signed up for a ballroom dance class. One of the requirements was attending an outside dance event. We went to the Westmor and a show by Ron & Carol Montez in both Latin and Ballroom was quite fascinating. We danced some basic Cumbia & Rock kind of Swing but I wasn't particularly good. Unfortunately though I was not paying attention when they said "Come back next week for blah blah, blah…" I assumed it was the same thing. Boy was I surprised when it turned out to be a CLASS! Though I protested mightily, Jill Irwin dragged me out onto the floor.  I was an athlete but every time the teacher said rotate, the pretty USC Sorority girls looked at me like "Oh No!, not this one again as their eyes rolled skyward." Yet they smiled at the nerdy engineering types who were more advanced. I made a vow not to quit until I had passed everyone of those B!+¢h35. By the end of the six week course I had gotten better but passed very few.
Come fall semester I signed up for 1 class taught by Ron Montez. Two hundred college kids having fun. I was hooked! By the next semester I had joined the dance team and progressed rapidly from Beginning Team to Intermediate team. By Spring 76 I entered the USC Intercollegiate Championship and was shocked that I won the Latin with Rose. I entered the Ballroom with Hellen Rodriguez and got knocked out in the first round. I guess I was a Latin dancer!
In November 76, I entered my first Latin competition- the California Star Ball. Cocky me went out there expecting to win both the pre-novice and novice divisions and got drubbed by the visiting horde from BYU. Each loss brought me back to reality and made me double down. By 1977 I was taking , Ballet, Tap, Modern and Jazz in addition to every dance class the Montez's offered. In Fall of 77 I won the Novice and Pre- Championship divisions at both the Emerald Ball and Star Ball. That year I was elected Captain of the USC Ballroom Dance Team and we went to the US Championships in New York at the Waldorf Astoria. We won!  
Soon after we were invited to dance at the British Open at Blackpool and having to choose between graduating and dancing in Europe, I took a semester off (which turned into 43 years!). Though we won the first round, we ultimately came in second. Standing on the floor as we got an ovation, the thought came to me-'This is what I want to do for the rest of my life!' Thinking I would never get another chance to see Europe again I took off and did a solo 6 week circle trip from Norway to Austria Greece, Italy and Spain, France and London. 
Returning to LA I was energized. Rose and I had moved up to Championship level. Working very hard we won several amateur events but were disappointed to come in 2nd at the US Amateur Championships because a dispute between pros and amateurs caused the event to be judged by Amateurs. Pros attending gave us the nod. Three months later we were selected to dance at the World Amateur Championships in the Royal Albert Hall in London but barely danced one round. Three weeks later at the British Open, Rose told me her heart was not in it and quit right after. Lucky for me my team coach Roy Mavor was there and after telling him I needed a partner, his wife suggested their daughters (16 year old) Ginny or (14 year old) Natalie. Having just seen Natalie dance, I eagerly chose Natalie. 
Though the Mavors lived in Houston Texas, we arranged a tryout over Christmas. Never had I danced with someone so natural! When I asked can you do a split or some trick, Natalie would answer "Sure, which foot ? " In other words-  she could do either side equally well. Over the next six weeks Natalie or I flew in on Friday afternoons, we rehearsed nonstop and flew out on Sunday afternoon.  Within 6 weeks we were the US Champions! A few weeks later we won the Latin Division at the World Cup held in LA.
With her now 15 and me 24, we represented the USA three months later at the Worlds Amateur in Stuttgart, Germany, We were thrilled to place 17th against couples who danced daily since they were kids and several future legends among them. One week later Natalie called me sadly to tell me that due to finances her dad was giving us an option, move to Houston and stay Amateur or stay in LA and turn pro with Natalie. Her dad had studios in LA and was offering to train me to manage it. But so afraid of failing and hurting him  I chose wrong and our partnership ended. Having been spoiled by the special ability of Natalie I searched but finding no one, I turned pro. 
Blessed to be coached by Ron Montez and Nina Hunt, I needed to find a new pro partner. Ron suggested a girl in San Diego. Once again with the travelling Jane Murphy and I would commute the short 2 hour drive on weekends. Our first event was the US Ballroom Championships at Madison Square Garden and it must have been so memorable, I don't even remember anything except we all had to switch to jazz shoes as the floor was so slick everyone was falling down. Two months later Jane and I won the California Star Ball Rising Star Pro Latin division. Nina visiting from London, invited all of her winning couples for dinner. Jane having come with friends opted not to attend so I brought my new girlfriend Kate. Nina gave me a verbal dressing down and said "You bring your partner to these events not your girlfriend!" In my mind I decided "Then meet my new partner!"
By Christmas Kate and I started rehearsing madly. Kate Gilligan was a newbie teacher at Fred Astaire in Beverly Hills but stunningly beautiful and trained as an actress. Needing to make a big jump to get into the finals in the Open Pro division we decided to take a job performing on the Azure Seas, a local cruise ship that made twice weekly runs to Ensenada, Mexico 300 miles to the south. Though Nina warned, we'd never be competitive again, performing 5 shows a week and rehearsing virtually every day, we discovered a ballroom in Ensenada and would practice there while in port. Then I realized we could rent a car and drive up for coaching with Ron Montez who had moved to San Diego, just two hours north. Having to "perform" while dancing on a moving floor does wonders for your dancing. We made a deal with the ship that we could take off for comps as long as we replaced ourselves with other couples. Not only great for us, our friends got free cruises. Over the next year we won the Texas Challenge Rising Star, and were runner-ups behind Ron Montez in the Open Pro division at the International Grand Ball, Ca Winter Festival and finalists several Pro Latin comps such as the California Star Ball and Shangri-La Ball. But best of all, in just over a year, Kate and I made both the quarterfinal round of 24 in both the British Open Latin AND Rising Star divisions!
Over the next two years Kate and I practiced so hard eventually returning to land. Though we made many final rounds, my intensity has a habit of burning out partners. One week before the USBC in New York, Kate decided to quit and we split soon after.
Now working at Arthur Murrays in Beverly Hills I tried out several partners but most of them did only American Style. In those days American was kind of like the ugly sister and though I did a few comps and shows with Sheila Stillings and Gabriela Young we never got going.
After about one year, missing Kate and dancing we reunited and had quick success. But wanting to start a family we took 85 & 86 off to have two sons. Just before my second -Brian, was born Kate decided once again to quit. 
A quick call to Ron Montez and he suggested a girl in Denver. He assured me she was like Liz Curtis his former partner who was tall, preppy personality plus. Karen Lee agreed to fly out. I could have killed Ron when the last person in baggage claim was this funky dressed beatnik and she says "Hi I'm Karen!
Karen's only title was as the pro half of a pro/am that had won the AMERICAN division at USBC. Realizing how much work we had to do, we alternated weeks in LA and Denver having only Sundays to travel. With help from champions Mic Stylianos, Walter Laird, Ron & Liz, we won just a few Rising Star events until it all came together at the Florida State Championships when we changed our look. Karen had been wearing outfits for a soft girly personality. That wasn't Karen! Tom Slater designed a black hot glued sequin dress that looked like she should ride into the ballroom on a Harley Davidson. He spiked her hair. Wow! With me in matching "sequin pants, sequin shirt, sequin shoes, we won the Embassy Ball and USBC Rising Star Championships on successive weekends.
Wanting to be home for my kids, I decided that night to quit. Upon telling Nina she said "I know you boy, you'll never quit!" Over the next few years champions such as Espen Salberg suggested partners from Japan, or LA but I only agreed to train them. One of these was Masako Yamada and we did a fun few shows. I opened my studio Let's Dance in April of 1988 and being so occupied made it hard to practice. Instead Natalie Mavor and I who would occasionally reunite for shows. Natalie who ended but going through 14 partners would dance with me between partnerships. When she wasn't around Karen Lee and I would perform once again. Also Annetje Riel from Holland joined the studio and we did a few shows together in Ballroom and Salsa.
Finally feeling like I wanted one last shot at the pro Worlds, I agreed when Janine Glasson arrived from Australia. She had place 3rd in the previous Aussie Championships and #1 and #2 had just retired. Though we had a short partnership, the demands of family, my new studio and my own desire to not be anything but perfect meant we decided to split at Blackpool. Happy to say Jeanine later partnered up with a boy from Holland and made the World Pro Championships.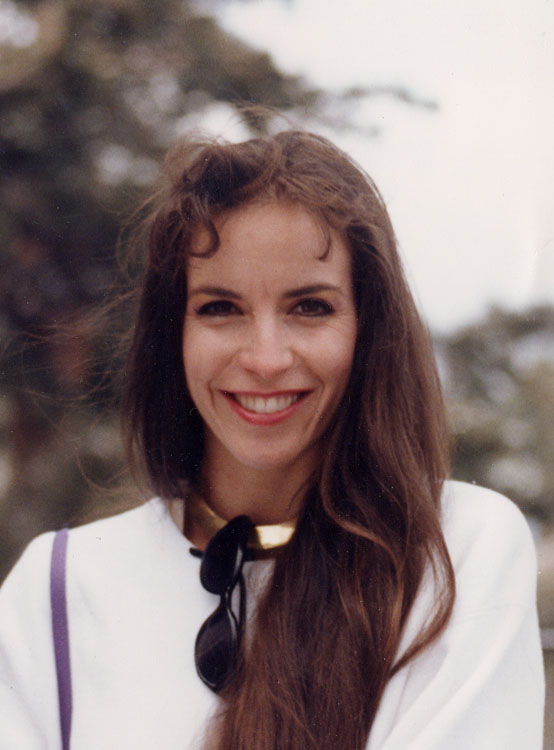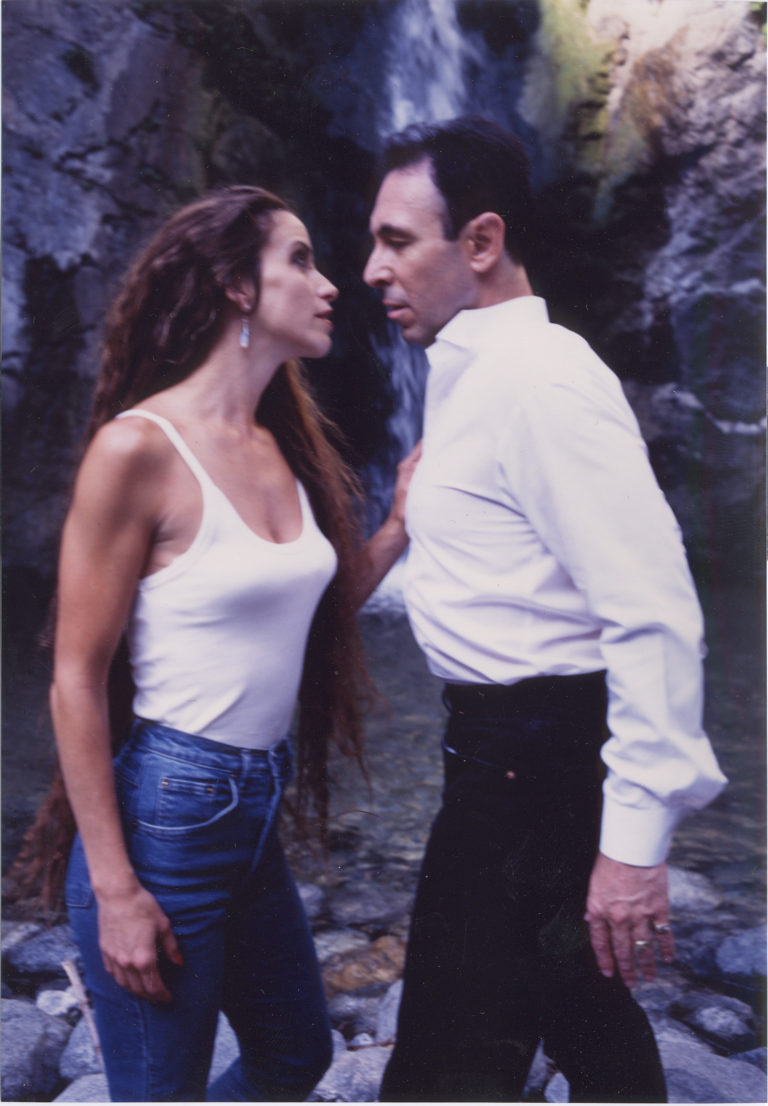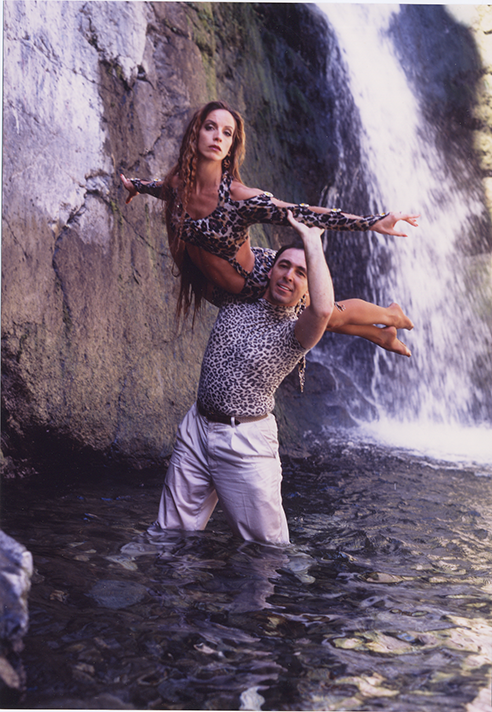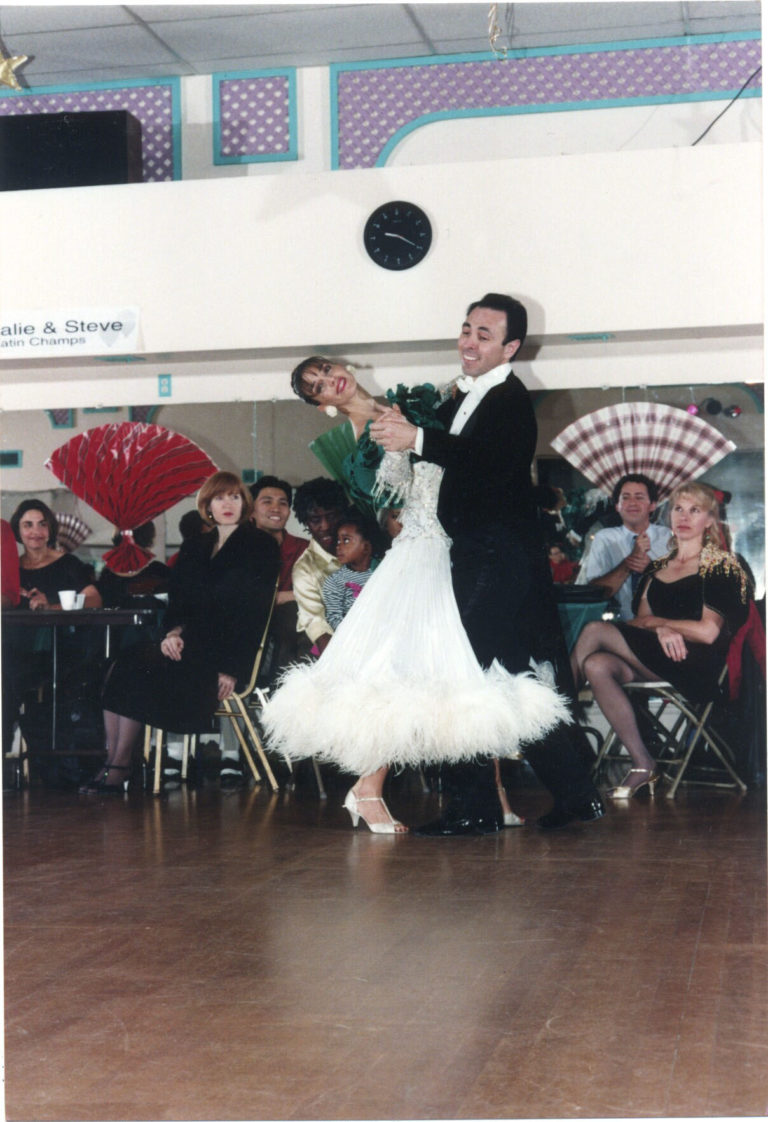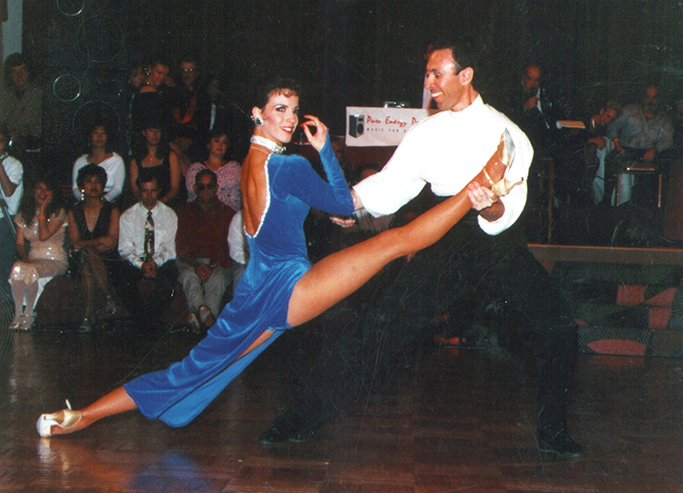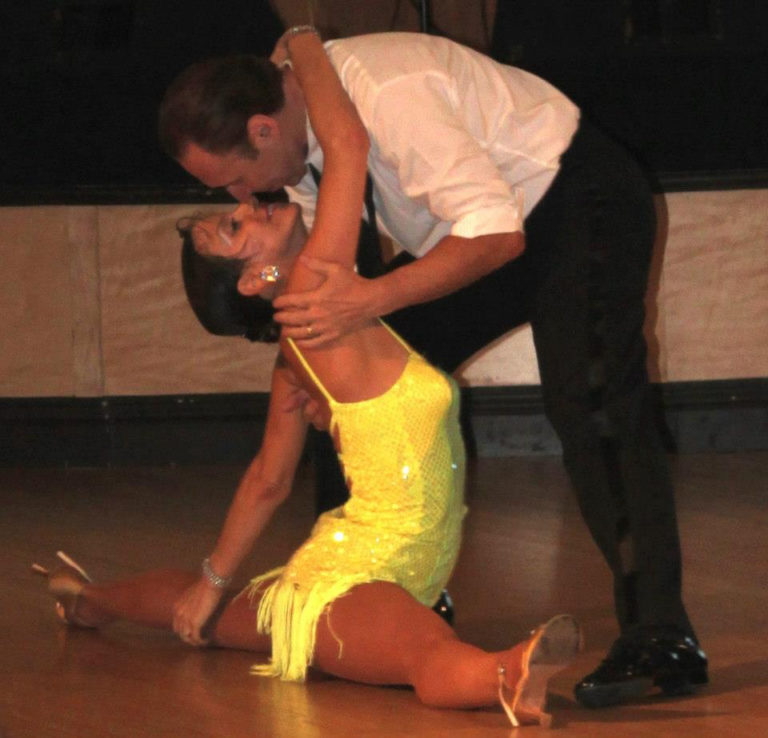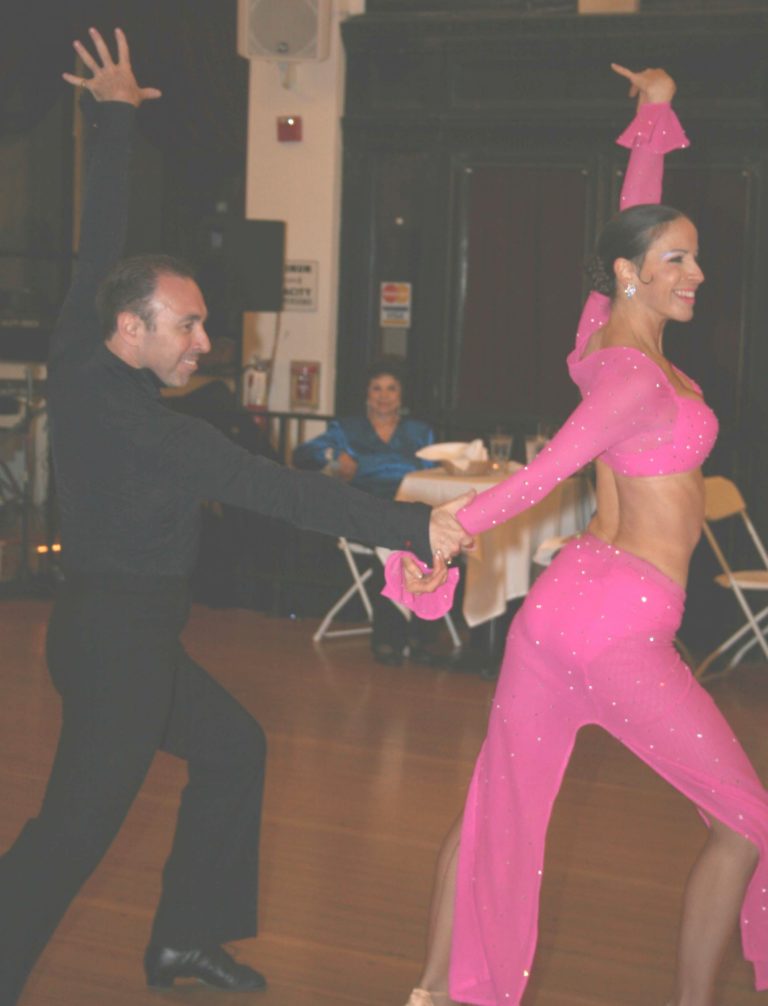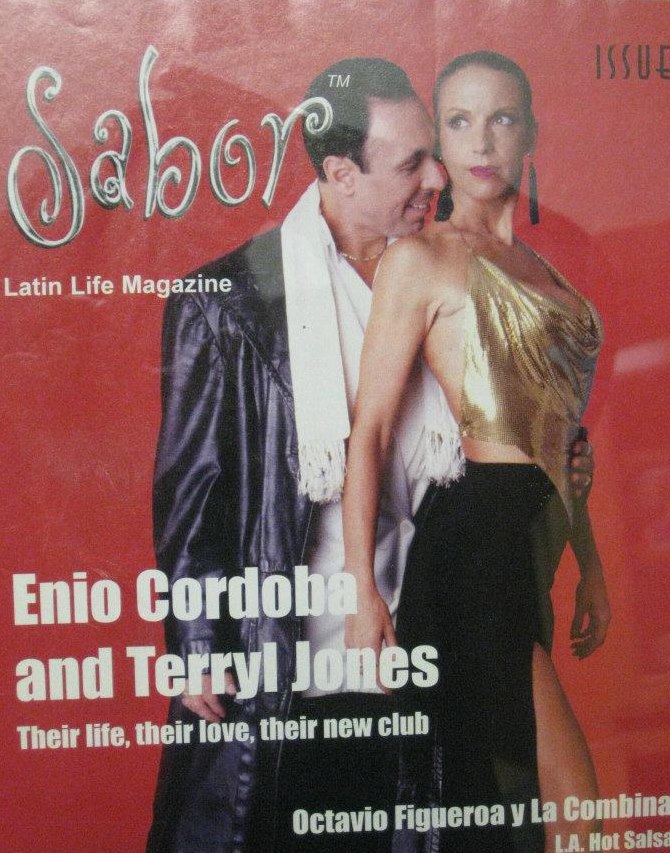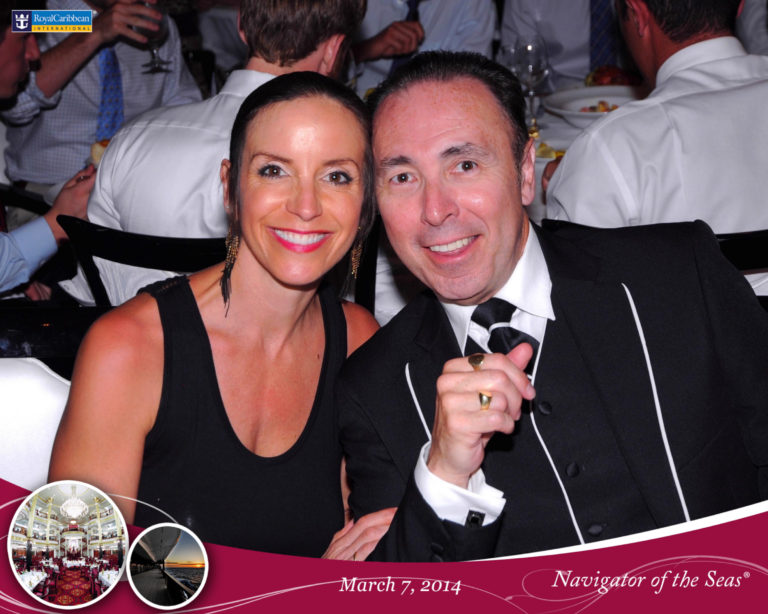 The first time I met Terryl Jones, I thought she was stunning. Two or three years later we started dating. When she finally moved in with me she realized that I was the "guy in the sequin pants, sequin shirt, sequin shoes" that she had seen at the Florida State Championships and decided to dump her partner and "go get me one of those!" Terryl though was Ballroom trained, and I Latin trained. Our different abilities meant we would never be able to dance to the level of the other professionally so we decide not to compete. Doing shows though meant we could have lots of variety. Within three years we took a short 6 week job on the Stella Solaris a cruise ship in the Greek Islands. Performing regularly meant we got pretty good in a hurry.
Upon returning to LA my brother told me that the World Swing Championships had an Open Cabaret Division with great prize money. With nothing to lose, we entered and won. As we came off the floor, the directors of US Swing Open Championships grabbed us and invited us to dance at their event. Three months later, against legends like the Savoys who had giant breath taking lifts we placed 4th. The following year we danced the US Swing Open again in three different divisions. Having suffered a shoulder injury I was severely limited but we still placed 10th in the Classic Swing division finals and in the Team and Cabaret Divisions. But with my brother having won three successive US Championships and 2nd on either side of those, I decided i didn't want to do anything that would hurt his chances and so Terryl and I decided to play in the Salsa world instead. Thanksgivings and Christmas would be much less tense!
Over the next 8 years Terryl and I developed Let's Dance into the biggest studio in LA. With nightly classes of 60-100 we had little time but it was about to get crazy. We got so busy we stopped teaching privates just to focus on the massive group classes

In 1997 Liz Curtis called me and said they were casting for a new dance movie. She and the choreographer wanted Terryl and I to work with the director and stars. Over the next nine months I worked with director Randa Haines, and stars Vanessa Williams, Jane Krakowski, Joan Plowright , Harry Groener, and Willy Bermudez. Besides training we actually would work just off camera to give Randa the effects she wanted. In several scenes we can be found usually wearing blue because almost every guy in that era had switched to black. After the film came out, we were invited to teach all over Europe because of the movie's popularity.  We were invited to Austria, Belgium, Canada, China, England, Italy, Latvia, Netherlands, Norway, Slovakia, Spain, Sweden, Turkey
After about two years of regular trips to Europe and Asia we realized that it was having an impact on our business. We had been looking for a building and missed out on a magnificent one in Alhambra. By now the studio focus had switched to about 70% Salsa and Casino Rueda and we decide to purchase a building as our classes were now bursting at the seams. With help from a friend we purchased the Granada a three story building and spent the next 9 months rehabbing it. Our classes were hitting 120 students and we were producing our own line of video tapes. We got so busy that we had to travel and perform separately. Terryl was missing Ballroom so I encouraged her to find a partner and I was invited to perform in Belgium and Sweden so I partnered with LA Salsa champ Olivia Dasso. But after 2008 we had to sell the building and Terryl and I went back to performing shows.
When we look back our journey through the Ballroom to West Coast Swing and Salsa worlds helped us meet many of the masters from so many styles.
Amateur (Pro/Am) Partners
When I say I have taught 50,000 students, I'm not kidding. In fact the number DOESN"T include the hundreds that we taught twice weekly on various cruise gigs. But From my first days as a teacher it is the ones that you teach privately that you most remember. Some because you were the only thing that helped them keep it together, others because they taught me something about life, and still others that were special in different ways.
At Arthur Murrays, two students that became dear friends Naomi Osugi, who in addition to teaching me just enough Judo to hurt myself, taught my kids and is still a friend after 38 years. The other was Ann Ferguson. Probably the smartest person I ever met. An assistant to noted Child Psychologist Dr Karl Menninger, she taught me so much about people and saw something in me that I didn't. Knowing that I had studied pre med at USC she would bring me the monthly Harvard Medical School newsletter. Even into her 80s she would take a bus 1 hour each way and take 2-4 lessons a week. She moved in with my family until she died. 
Ann Ferguson helped me find one talent that brought many students to a level they never thought they would attain. Whether in dance or life. 
Besides these two, a lovely lady from Indonesia Dr. Fiona Muditajaya signed up for privates with me a month after I opened the school in 1988 and took 2 weekly lessons for 24 years. 
My two shining examples were Janet Kvasnak and Judith Castelan. Janet was a neo natal ICU nurse. Dealing with that kind of stress she needed a release. Having started on the USC team with my brother she came to me and we started competing right away. Winning immediately we went to The Breakers -Florida State Championships and won the Pro Am Latin and made the finals of the Pro Am Ballroom. One month later Janet and I won the US Pro/Am Latin Championships A division.
Judith Castelan on the other hand was a patron of my Granada Salsa Club. Dancing a very unique blend of Salsa and Argentine Tango fusion, I always liked to watch her. One day when I was visiting her restaurant I bluntly asked her "So when you going to start dancing for real?" Unexpectedly she said she would do just that. After 6 months of groups we started doing ProAm. In much the same way that Natalie was a natural, Judith was as well. Judith though decided she wanted to try both Latin and Standard. When she finally got out there the pro judges would stop and watch and say it was really cool to see us dance. Now how she managed to do 10 dance, run a major restaurant, take care of a mother in a wheelchair, and still take group classes is amazing even to me. When Terryl and I left LA for Dallas, I directed her to find the best Standard teacher she could. A few months later dancing with Stefano DiBrino, she won the World Pro/Am Ladies Standard Championship. 
A few notables, Emmy Hernandez who let me take her from newbie to champion, Judy Kjos already a pro am champion who came to me when her teacher left, Michelle French my brothers girlfriend who would go on to win the US Swing Open Showcase division and Sandy Chase.
Sandy followed Janet all the way to the finals at USBC two years later. Sandy became a really good dancer who I would often grab to dance in impromptu showcase jam sessions. 
Finally my 1990 Amateur Latin Formation team. Out of this photo, three US Pro/Am Champions, seven became professionals, Two as US & World Swing Champions, one as World Professional Ten dance Champion, and one World Swing Dance Hall of Fame.